Suika Game
Suika Game PC version also known as Watermelon Game in English: You have to make a bigger fruit by combining two same small fruits such as Cherries. Let you merge lots of watermelon as you can
About Suika Game
Suika Game Overview
Suika Game, also known as the Watermelon Game in English, is a delightful fusion of 2048 and Tetris, sprinkled with a generous dose of physics-based excitement. In this captivating game, your mission is to drop a variety of fruits into a container. When two matching fruits come into contact, they ingeniously merge to form a larger fruit. The ultimate goal is to reach the coveted final fruit, the illustrious Watermelon, or simply prolong the game for as long as possible before the fruit stack reaches the container's brim. Brace yourself for some addictively entertaining gameplay!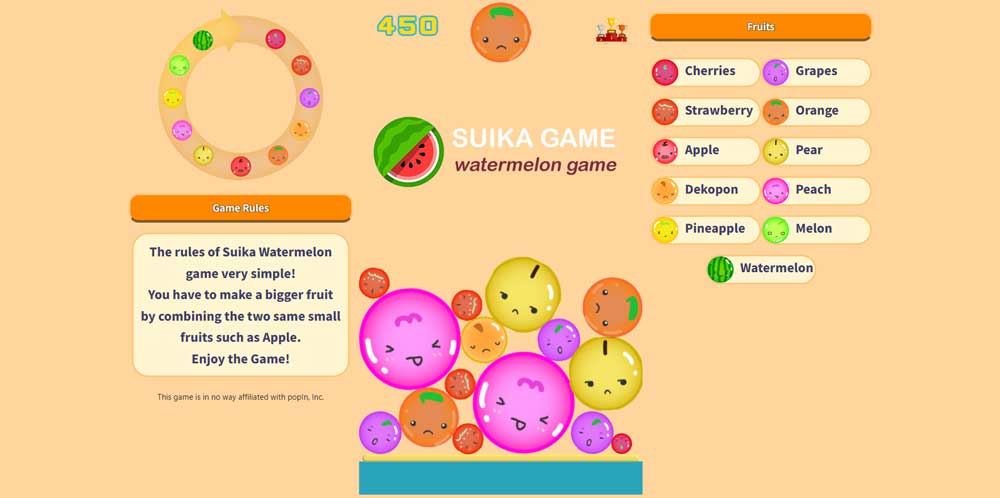 Types of Fruits
Suika Watermelon Game boasts an alluring assortment of fruits, each possessing its own unique characteristics. From the delightful Cherries to the grandeur of Watermelons, players will be entranced by the charming visuals and the sheer delight of merging mechanics. Dive in and savor the flavors of:
Cherries
Strawberries
Grapes
Dekopons
Oranges
Apples
Pears
Peaches
Pineapples
Melons
Watermelons
Embark on a fruity adventure like no other, and let the merging madness begin!
Suika Game's Viral Success
In September 2023, Suika Watermelon Game witnessed an astonishing surge in popularity, marking its ascent two years after its initial launch. The Watermelon game achieved global virality, thanks to the enthusiastic endorsement from streamers and content creators who highlighted its distinctive gameplay and challenges based on physics. Prominent figures, such as Japan's popular VTubers and notable artists like Ado, lent their support to the game, significantly contributing to its widespread acclaim. Platforms like Twitch experienced an extraordinary rise in viewership, with millions of hours of Suika Game content being consumed every month.
How to Play Suika Game Online?
Play Suika Game on PC
If you're eager to dive into the world of Suika Game without spending a dime, you're in luck. A browser version of the game is readily available for PC enthusiasts. To embark on your free gaming journey, simply visit suikagamepc.com and kickstart the fun!
It's worth noting that the free PC version of Suika Watermelon Game offers a slightly different experience compared to its Nintendo Store counterpart. Here are the key distinctions:
Physics Variation: The physics in the browser version exhibit subtle variances from the Nintendo Store version.
Fruit Aesthetics: In the browser edition, all the fruits are perfectly round, which is a deviation from the main version.
Next Fruit Preview: Unlike the main version, the browser edition doesn't provide a sneak peek of the next fruit to be dropped.
For the authentic Watermelon Game experience, the one you've seen streamers play on platforms like Twitch, you'll need to download the Suika Game on your Nintendo Switch.
Play Suika Watermelon Game on Nintendo Switch
Playing the genuine Suika Game on your Nintendo Switch is a breeze. Just follow these steps:
Create a New Nintendo Account: Start by creating a new Nintendo account.
Select Japan as Your Country of Residence: During the account setup, choose Japan as your country of residence.
Complete the Account Creation Process: Finish the account creation process.
Configure Your Nintendo Switch: On your Nintendo Switch, navigate to "Settings," then "Users," and finally "Add User."
Add a New Profile: Create a new profile and link it to your freshly minted Japanese Nintendo account.
Obtain a 500 Yen Voucher: Purchase a 500 yen voucher from Amazon or a reputable store.
Simplify Site Navigation: Use your browser's translation tool to ease the navigation of the site's menus.
Receive the Voucher Code: After purchasing, check your email for the voucher code.
Redeem Your Voucher: On your Switch, access the eShop and select "Redeem Code." Follow the on-screen instructions to redeem your 500 yen.
Purchase Suika Game: Return to the eShop and search for "Suika." Use your 500 yen to purchase the official Suika Game.
It's worth noting that 500 yen is slightly more than you'll need to acquire Suika Game, which costs 240 yen. Unfortunately, there's no option to redeem a 240 yen voucher, with the lowest available being 500 yen.
However, the cost is relatively modest. 240 yen is roughly equivalent to £1.32 / $1.60 / €1.51, and 500 yen translates to approximately £2.75 / $3.34 / €3.16. The choice is yours whether to pay a bit extra for the convenience of acquiring the yen necessary for relishing the Watermelon Game. Enjoy this juicy adventure, and see how many Watermelons you can merge!